We see many 'Couples of the Century' through numerous media. Whether they are real couples or the fake ones, the range of couple are limitless. For example, world famous football star David Beckham and the member of the world pop girl group 'Spice Girls', Victoria Beckham became the couple of the century since their marriage. There are also fictional couples beloved by many in the world. In Jane Eyre, the famous and influential western novel, the love between Jane Eyre and Edward Rochester has been remembered among readers until now. Then, is there any 'Couple of the Century' in Korean classical literature? Absolutely, yes! Chunhyang and Mongryong, they are the familiar names to Korean. The novel was adapted for pansori, book, film and even drama, beloved by many fans. The main character, Chunhyang, built an image of active woman in Joseon Dynasty, and now she became the representative image of Korean woman through the various performances carried overseas. They are truly a couple of the century that presents Korea.
Unfortunately, there wasn't any place to remind us of their love story. Every story was supposed to be alive in the reader's imagination, however, if the readers can see and look around the virtual place that helps understanding of the full story of 'Chunhyang-jeon', visitors would definitely enjoy the story with the scenery. Well, from the idea and demands, 'Namwon Chunhyang Theme Park' finally opened on May 2004. Theme park is the place for entertainment attractions that has landscaping, buildings, and attractions that are based on one or more specific themes. The 'Namwon Chunhyang Theme Park' is ready for couples with the gist, 'We invite those of you who have someone in love with!'.
We have everything in Namwon Chunhyang Theme Park!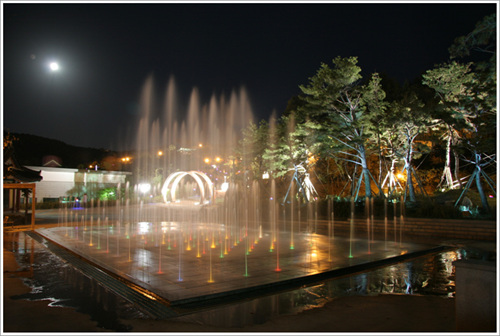 '

Namwon Chunhyang Theme Park' is comprised of mainly 5 places- 'Meeting Place', 'Pledge Place', 'Love and parting Place', 'Hardship Place', and 'Festival Place'. When you enter the theme park, you will see the facilities and structures that are well-matched to each place. At 'Meeting Place', you will see swings where
Chunhyang
and
Mongryong
first met, a fountain, and a cultural museum. At 'Pledge Place', you will meet a stone tower over the ring-shaped bridge '
Okjihwan
' which means a declaration of love. You might also find some couples in front of the tower, piling a stone on it and tying a small piece of wishing paper. In addition, 'Pledge Place' is quite a famous place to couples among other theme places. When a couple put their hands inside the 'Pot of Pledge', the love song
'Sarang-ga'
comes out of it. At 'Love and Parting Place', you will see the '
Buyong-dang'
where
Chunhyang
and
Mongryong
spent their wedding night, and the house of gisaeng '
Wolmae
',
Chunhyang
's mother. Also there is a workshop that you can experience the 'seonbi's style and arts, and even commoners' culture in the middle era of
Joseon
Dynasty. 'Hardship Place' is also a place that attracts tourists. There is a rebuilt jail that
Chunhyang
was imprisoned, and the investigation office which has a stick for flogging criminals. The stick is remade for visitors to try and have fun, so you can try it, too. Finally, at 'Festival Place', there are many places to relax for visitors, and private theme school for writing letters with a brush. Once you use the brush, you will feel as if you were a writer going back to
Joseon
Dynasty.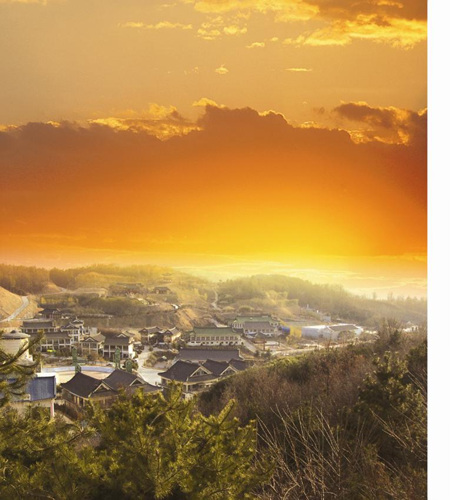 (Source : Korea Tourism Organization)
The introduction of the 'Namwon Chunhyang Theme Park' is all over. However, there are more reasons why Namwon is getting attractive. If you look are the other museums and entertainment attractions will give us satisfaction more than ever.
In 'Chunhyang Cutural Arts Center' which is located in the theme park, the performance of the intangible cultural asset that was designated by the province holds on regular basis. You can also lend the hall in advance. Please take a look at the performance schedule posted on the homepage of Namwon City Hall.
Besides, you can participate in making a pottery in the traditional cultural center in the theme park. It will be a wonderful memory for you to bring, considering it is neither a plastic, nor a porcelain dish that we see commonly in our daily life. The theme park will give you a meaningful experience on Korean traditional culture as well as
Chunhyang'
s love story.
This is not the end. Since last fall, the newly started festival of Namwon will give fresh opportunity to visitors. The marching parade which starts from every Saturday and Sunday from 2pm to 5pm is named the 'Newly-appointed governor's arrival'. As the parade marches from
Gwanhan-ru
to Theme Park, which is 2Km long, it will be a 'must visit' for those of you who love traveling.
For those of you who want to experience
Chunhyang
's love and passion, we recommend you to visit
Gwanghan-ru
, and
Chunhyang
shrine.
Gwanhan-ru
which is famous for the place where
Chunhyang
and
Mongryong
first met each other provides splendid scenery in any season.
Chunhyang
shrine is the place that was built to honor the
Chunhyang
's sincere love toward
Mongryong
. The bamboos planted around the shrine are standing strong and straight as if it showed
Chunhyang
's nobel beliefs and principles. The letter '
Dansim
' which means sincerity that presents
Chunhyang
's character will touch the bottom of every single visitor.
In 2012, Yeosu will host the Expo, the world cultural festival. As the festival is expected to draw public attention to Jeolla province, most of the area is spurring the preparation for Expo. Of course, Namwon is not an exception. Namwon already selected several restaurants to recommend during the Expo and is now working on the promotion. In addition, Namwon Chunhyang Theme Park planned last February to provide more entertainment for visitors, overall which shows how Namwon is trying so hard and put a lot of efforts on it.
'Namwon Chunhyang Them Park' stands still as it is the first theme park that targeting the classical literature in Korea. Although the novel was written a half century, the love between
Chunhyang
and
Mongryong
would have something special that transcend the flow of era. We hope that you can experience the amazing and beautiful power that makes their love and even the entire Namwon as a one cultural heritage over half a century. Do you have someone you love? Then, move your step to the 'Namwon Chunhyang Them Park'.