Once upon a time, Korean ancestors spent overnight with a lamp. Students prepared the national exam with a lamplight. The story 'Han Seok-bong', a leading mid-Joseon period calligrapher,
is very well-known for the episode that mother checked his son's improvement, chopping the rice cake next to her son while he was writing calligraphy without a lamplight.
This story became an old tale, which seems impossible in these days. However, in
Tong-yeong
city of Gyeongsangnam-do, people enjoy wind lamp game at night of Donji day. In Joseon period, students used to play the game with other school students. The key is whose lantern flies the highest and floats the longest.
It tells us that we should light up the darkness, and wish for safety of family members toward the floating lantern on the sky.
Jinju Namgang Yudeung Festival
In October, the night sky over the Jinju river become full of fantastic lanterns. It is Jinju Namgang Yudeung Festival. The festival, which started in 2002, has won the top prize in last five years in a row. In addition, floating lantern festival is designated as one of the best festivals in Korea this year. Now, it began to step forward to the world.
Ancestors used floating
lanterns for military use. Floating lantern is more advanced tool than signal-fire tower in terms of alert!ing the enemy's invasion to other regions. In October, 1592, during the war against Japanese troops, General Kim Shi-min used wind lanterns and torch as military signals. They were pretty effective ways to stop Japanese to cross the river. In addition, the lanterns were used for communicative methods between soldiers and their families.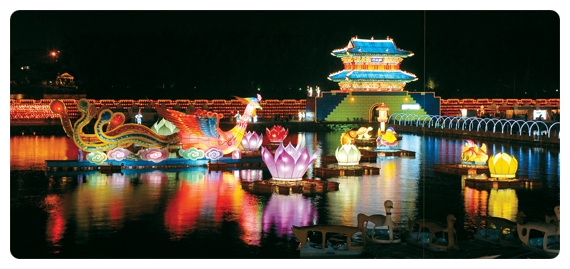 (Source: IS Plus Corp)
You can have hands-on experience, such as making rice cakes, playing traditional games during the festival.
Lanterns describing Korean troops and enemies in their costume, fire arrows, and water cannons will be reproduced for war of
Jinju
fortress. Moreover, there will be lanterns that symbolize each country, such as Korea, China, Taiwan and Japan. Ranging from small lanterns to 15 meter-high lanterns, the various lanterns will light up the night of Nam River.
Fantastic Feast of Light Decorates a Night Sky of City

(Source: YonhapNews, Newsis)
The festival has continued to be held in downtown. The traditional lantern festival in Bongeun temple and Seoul world lantern festival in Cheonggye stream welcome us.
Lantern show of Bongeun temple starts near Buddha's birthday. The show focuses on Buddhism so there are many religious works. You can feel fantasy because the show is held in exhibition hall. If you feel stuffy, please go outside for lantern festival.
Lantern parade from Dongdaemoon stadium to Jogye temple is a big festival of Buddist culture. You may have generosity when you watch the light of Buddhism arising in city building forests.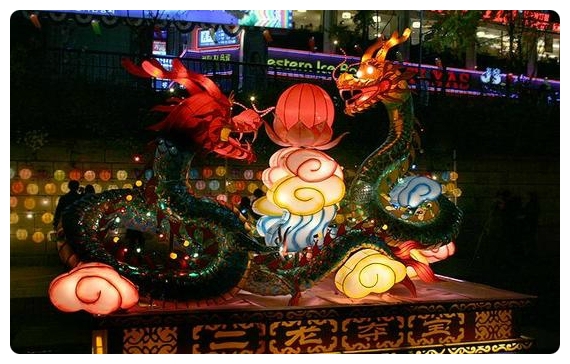 (Source: Seoul Lantern Festival blog)>
Lantern festival, which was held in November, last year, will be held on Cheonggyecheon. The previous festival gave wonderful and warm memories not only to Seoul citizens but also the foreign visitors.
Lanterns of Haechi and ten symbols of longevity were displayed near
Mojeon
Bridge. There were some lanterns invited from abroad:
Koshogawara Dachneputa
from Japan,
Byungum
Mask from China, Giant lantern in
San Fernando
festival from Phillipines,
Heitiki
lantern telling about
Maori
tribe from New Zealand and
Jaeshinsongbo
from Taiwan. They were displayed near
Gwangtong
Bridge under the theme of the 'light of the globe'.
Meanwhile, the theme of festival near
Jangtong
bridge was the 'light of recollection'. It presented daily routine of Korean, fairy tale and history, which drew a lot of attention from visitors. Near
Samil
bridge, many artworks, such as characters, animals, hot air balloons, lanterns made by new artists and LED lanterns, reminded visitors of a floating museum, creating a forest of light.
Lanterns Lighting up Asian's Heart
Let's see other lantern festivals in neighbor countries. China has a lantern festival in January 1
st,
as a Spring Festival. Chinese hang paintings like carps for luck on the wall and have a big lantern festival outside.

(Source: OhMyNews,
Hakata
Lantern Festival (Japan)>
In particular, you can watch a variety of splendid lantern works displayed in a small city in China,
Chukung
, which is three hours away from
Chungdu
. Most of Chinese people spend Spring Festival, enjoying the enormous lantern.
How about Japan? There is a very popular lantern festival in
Fukuoka,
which is called Hakada Lantern Festival. It displays lanterns based upon the geographic locations. The shape and size of lanterns are very different from those of Korea and China.
In earlier days, the lantern events called 'Cheondeungmyeong' used to be held in shrine or temple during summer. They cut bamboo trees into half, put sand and seashells inside, poured oil, stuck a wick and lighted it. The event has continued to develop and degenerate and finally became a Hakada Lantern Festival. It is very popular to couples for its beautiful scenery.
Lantern tells us a hope. It is like jewel lighting up surroundings. Why don't we turn the light on without harming nature? You should be careful especially in a windy day to prevent fire. Plus, if we care about our neighbors with the sincerity we light up the lantern with, our heart will be warm like a lantern

.